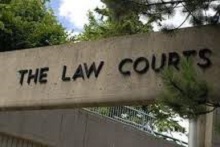 April 26, 2017
April 11, 2017
January 6, 2017
December 15, 2016
November 23, 2016
Welcome

Côté's Commentaries
© J.E. Côté 2016-2017
Alberta's Court of Queen's Bench are working exceptionally hard, but despite their efforts bad backlogs have built up. It is not the judges' fault, but you can wait a long time for a trial or even to have your interlocutory application heard. That can do serious financial harm to your client, quite apart from the mental strain and depression of hope deferred.
What can you do to surmount the problems caused by the big backlogs? Here are some possible avenues to investigate: the law of interest matters: brush up on it, and keep it in mind when drafting a contract or trust conditions, and throughout a lawsuit;
very early on, discuss frankly with your client how much time and money a proposed or new suit is likely to cost, and whether he or she has the stomach and the purse for that;
confine any claim or defence to issues with a good chance of success, and which will not cost a lot of time or money to investigate and prove or test; get permission to delete the rest;
make generous formal offers to settle at an early stage;
settle with parties from whom you are not likely to get much relief, either by making an alliance of cooperation with them, or not suing them in the first place;
try to make procedural deals with your opponents, e.g. a collaborative approach to written and oral discovery and disclosure; and book in advance several discovery (questioning) sessions;
adopt a litigation plan and deadlines for your suit, preferably by agreement with your opponent;
try to get security from your opponent: not just for costs, but for damage or undertakings, or for the debt or property in question; get security as a condition of an order or an agreement;
avoid any interlocutory application unless it is very important;
be very slow to object to any question on discovery (questioning), and be quick to comply with any demand for particulars or request to produce some group of records;
be extremely polite, diplomatic, and cooperative, no matter how immature or mean the opposing parties or counsel may seem;
plan your timing and organization for the whole lawsuit; multi-task: never postpone some tasks just because you are busy with other tasks; even use critical-path diagrams (P.E.R.T. techniques);
find a legal way to get relief outside the courts, e.g. from an administrative tribunal or professional regulatory body which moves faster and has a lighter caseload; but probably not the police or criminal law, as that is often misprision of a felony, or extortion. You may be able to hire a trained investigator and turn his findings over to the regulatory body;
research the law carefully to see if any kind of self-help is open to your client, e.g. set-off, a common-law or statutory lien of some kind, caveat or lis pendens, or cancelling a contract either at common law or under the Bankruptcy and Insolvency Act;
move for summary judgment or summary dismissal, but those wait times are long too;
agree on a statement of facts, and ask the court to decide the case on that basis, but those wait times are long too;
show irreparable harm and ask for interlocutory relief pending trial, such as a receivership or liquidation, interlocutory injunction, restraining order, emergency protection order, stay pending judicial review or appeal, security for a caveat under the Land Titles Act, replevin, property preservation order, a Mareva injunction or attachment order under the Civil Enforcement Act; but those wait times may be fairly long too, and some are very expensive;
show urgency and try to get an expedited hearing;
go to another venue: sue in a less busy Judicial Centre, another province or territory, or the Federal Court;
join some existing litigation almost ready for trial;
agree to have a private person to decide the dispute as an arbitrator, or as a referee under the Rules of Court;
settle the matter amicably, probably by using a neutral mediator.
Frank disclosure: the author does mediations, arbitrations, and references.
– Hon. J.E. Côté
The Commentaries are intended to call the attention of lawyers to promising or threatening developments in the law, in civil procedure, in developing their skills, or simply to describe something curious, funny or intriguing.
Justice Côté recently retired from the Court of Appeal of Alberta and currently acts as an arbitrator, mediator, or referee under Rules 6.44 and 6.45 of the Alberta Rules of Court.
He may be contacted through Juriliber at email: info@juriliber.com or phone 780-424-5345.